Our Rabbis
Rabbi Jason Rosner
Clergy Statement
To be added.
Contact Information:
Rabbi.Rosner@tbesoc.org
Biography
Rabbi Rosner joined the TBE clergy in July 2023. He has served in congregations, as a hospice chaplain, and has a background in pulpit work and fundraising. In addition to rabbinic work, he enjoys teaching about Jewish history, specializing in historical context and making the culture and religion approachable without sacrificing depth.
From 2019 to 2023, he was the Senior Rabbi and Executive Director of Temple Beth Israel of Highland Park and Eagle Rock where he was noted for expanding the synagogue's membership, visibility, and ecological offerings.
Rabbi Rosner is a board member of the Sandra Caplan Community Beit Din and a board member of the Pacific Association of Reform Rabbis. He is a member of the Central Conference of American Rabbis and the Boards of Rabbis of Orange County and Los Angeles.
Rabbi Rosner was ordained by Hebrew Union College - JIR in Los Angeles, from which he also holds an M.A.H.L. He was granted an M.Litt. in Medieval History from the University of St. Andrews, a B.A. from C.S.U.L.B, and has additionally studied at the Ziegler School of Rabbinic Studies, the Conservative Yeshiva, and Uppsala Universitet. Rabbi Rosner served as a Chaplain Candidate and 2Lt. in the United States Air Force Reserve from 2010 to 2015.
What else does he like to do? He is dedicated to the pleasures of picnicking, pickling, and cooking. He loves hammocks, cats and the blend of people who make up the rich tapestry of Southern California life. Rabbi Rosner is married to Rebbitzin Noémie Taylor-Rosner.
Rabbi K'vod Wieder
Clergy Statement
As your rabbi at Temple Beth El of South Orange County, I want to meet you where you are – on your Jewish, human, and spiritual journey. I strive to create sacred spaces that are inclusive, welcoming, accessible, and soulful. I welcome all forms of ritual expression – from traditional to creative, whether considered Reform or Conservative – as long as they are authentic and meaningful. I hope that you will know that my door is always open and that I want to be present in your life – to learn together, to celebrate together, and to walk with you through the difficult moments.
My purpose is to share life's journey with others in ways that help them awaken in ever deepening awareness to God's presence in this world. I seek to translate Jewish tradition as a technology of the spirit – a framework for perception and doing that allows individuals and communities to be in relationship around living lives of purpose and meaning. In this calling, I strive to reflect every person's inherent worth and Divine image so they can be empowered to be co-creators in God's world, honoring relationship and connection as the cosmic fabric of reality in which we participate.
Biography
A native of Orange County, K'vod received his BA in psychology from UC Santa Cruz in 1993 and his MA in Transpersonal Psychology (counseling) from the Institute of Transpersonal Psychology in 1996. He received an MA in Jewish Studies from the American Jewish University and was ordained at the Ziegler School of Rabbinic Studies in 2012. He is a member of both the Central Conference for American Rabbis (Reform) and the Rabbinical Assembly (Conservative) For the last 26 years, K'vod has been teaching classes, leading retreats, and counseling students in meditation, prayer, and creative forms of Jewish spirituality in the United States. He has served as the assistant director of Chochmat HaLev – a Jewish meditation center in Berkeley, program director for Sonoma County Jewish Federation, director of the B'nai Tzedek Teen Philanthropy Program for the Harold Grinspoon Foundation, program director for Elat Chayyim Center of Jewish Spirituality, and trained and interned with Jewish Funds For Justice and One L.A in the area of congregation-based community organizing. In 2001, K'vod created and implemented the first county-wide post-bnai mitzvah program in Sonoma County, and won the Etz Chayyim award for Informal Jewish education at the National Conference for Informal Jewish Education in 2005. K'vod joined Temple Beth El of South Orange County in 2011 to serve the synagogue's vision of Progressive Judaism. In collaboration with staff and congregants, he has initiated some of TBESOC's strongest initiatives, including the 8th Grade Tzedakah Board, Small Groups, Pathfinders, Can We Talk?! Building Relationships Through Disagreement, and the Center for Meditation and Jewish Spirituality. He is husband to Ilana Rogel-Wieder and the father of Levi, Aiden, and Aviv.
Cantor Emerita Shula Kalir-Merton, Interim Clergy
Shula Kalir-Merton Cantor Shula has served as Temple Beth El's Cantor since 1988. She was born and raised in Jerusalem, Israel, and is the daughter of the late Rabbi Joseph Kalir and Hilda Kalir, both holocaust survivors from Germany. Shula received her early education in Israel and her secondary education in Goteborg, Sweden, where her father held a rabbinical pulpit. After attending Boston University and the Hebrew Teachers College in Boston, Massachusetts, she moved to the west coast to work in the field of Jewish Education and to exercise her passion for Jewish music. She performed as a vocalist on the local Jewish scene, in several tours of college campuses in the western states, and concerts throughout Europe. Upon the suggestion of Rabbi Krause, who had heard her perform, Shula entered the Cantorate. She completed the four-year course of cantorial studies in just three years under the tutelage of Cantor William Sharlin in Los Angeles. Cantor Shula has one grown son.
Cantor Sue Knight Deutsch, Adjunct Clergy
Cantor Sue Knight Deutsch is a member of the Cantors Assembly, invested in 2003, receiving her commission as Hazzan-Minister from the State of New York in 2006. Her passion is connecting with, inspiring, and being present for others to help them experience a spiritual path through her teaching, writing, singing, and speaking. Originally trained as a psychiatric social worker in her native England, and raised in the orthodox tradition, she started studying for the cantorate in 1996 under the mentorship of Cantor Nathan Lam. Sue served as Assistant Cantor of Congregation Eilat for seven years, while at the same time interning at Congregation B'nai Israel for three years. She served for 16 years as the spiritual leader and chaplain of Heritage Pointe, and received her certification in hospice chaplaincy through Vitas. While at Heritage Pointe, she developed a musical program for residents with dementia based on her training in "Singing for the Brain" with the Alzheimer's Association, and later taught the same program for disadvantaged seniors at CalOptima PACE. She served as a member of the Executive Council of the Cantors Assembly nationally for three years, and co-chair of the Cantors Assembly Western Region for five years. She has a reputation for being an excellent Torah reader as well as teacher, and was chosen to chant Torah in the barracks of Auschwitz on the Cantors Assembly mission to Poland in 2009, which was captured in the film "100 Voices: A Journey Home." Cantor Sue is an alumna of the first cohort of the Institute for Jewish Spirituality's Clergy Leadership Program. She is a certified yoga instructor, holds a Certificate in Positive Psychology through the Wholebeing Institute, and is an ICF credentialed Resilience Coach. She studied meditation at the Esalen Institute, Ananda Ashram, and Kripalu, as well as the Institute for Jewish Spirituality, and has done interfaith work across the country. Sue combined these skills to create a monthly Contemplative Service, which she led at Shomrei Torah Synagogue in LA for three years. Sue is an internationally acclaimed speaker, and the author of "The Healing Hand: 5 discussions to have with the dying who are living." She currently serves as Conservative High Holy Day Cantor at TBESOC, tutors b'nai mitzvah students, serves clients in her coaching practice, and travels to speak and teach workshops on resilience, mindfulness, and grief recovery. Sue lives in Laguna Hills, and has three married children and five grandchildren.
Remembering Allen Krause (z"ll), Rabbi Emeritus
Rabbi Krause served Temple Beth El of South Orange County since July 1984. Ordained at the Hebrew Union College-Jewish Institute of Religion (HUC-JIR) in 1967, he spent his undergraduate years at the University of California, Los Angeles and did doctoral work at the University of Chicago and the University of California, Berkeley. He also was a recipient of the Daniel Jeremy Silver Fellowship to study at Harvard University. In 1992, he was awarded a Doctor of Divinity by the HUC-JIR. Rabbi Krause devoted much of his life to human rights issues. In the 1970s, he was active in the Save Soviet Jewry movement, which led to his journey to the FSU to visit and bring support to Jewish Refuseniks. In 1983, he created the Ad Hoc Rabbinic Committee to Rescue Ethiopian Jewry, which mounted a national petition campaign to influence the American government to take action to save this threatened Jewish community. Here in Orange County, Rabbi Krause was a leader in interfaith activity and the founder of the Religious Diversity Forum. He was also the founder of the Morasha Day School, which for many years met the needs of the Jewish community in South Orange County. Rabbi Krause served as president of the Orange County Board of Rabbis and the Pacific Association of Reform Rabbis. He also served on the Executive Board of the Central Conference of American Rabbis and chaired the CCAR Task Force on Rabbi/Cantor Relations. Rabbi Krause and his wife Sherri have two grown children.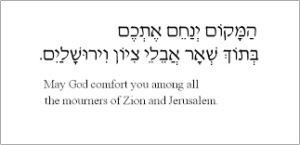 In Memory of Rabbi Allen Krause
from our sister congregation in Ra'anana, Israel Rabbi Tamar Kolberg and all members of Kehilat Ra'anan (Ra'anana, Israel) send their heartfelt condolences to Sherri and the children, to Rabbi Peter Levi and the members of Temple Beth El. Rabbi Krause was a devoted friend of our congregation for many years and was one of the moving spirits behind the vision of building a permanent home for us. It is through his endeavors that the Samueli family funded this project and they have remained solid friends ever since. Rabbi Krause was a strong supporter of Israel even when he found reasons to be critical of its policies – this is the essence of true friendship: being able to uphold a solid relationship while also knowing that in every partnership different opinions can be discussed and evaluated. Loving Israel and believing in the idea of a Jewish homeland does not negate giving up dreams of peace, of working towards a more inclusive situation for all those who live in Israel and the Middle East. Above all Rabbi Krause was a true "mench" – a human being who touched so many of our lives with his deep understanding and a keen sense of the "other". We will miss Rabbi Kraus's physical presence when we celebrate the Tenth Anniversary of Beit Samueli this coming June, and yet his spirit, his love, and his compassion will certainly be with us all. May all of you find comfort in his life long activities; his love of family; of the members of his congregation; his devotion to so many great causes and especially his love of Am Yisrael and Judaism. We send our love to Sheri, Gavriela, Roger, and Stephen and all of our friends at Temple Beth El – May his memory be blessed! Rabbi Tamar Kolberg Kehilat Ra'anan, Israel
Tue, October 3 2023
18 Tishrei 5784
Tue, October 3 2023 18 Tishrei 5784