Temple History
Temple Beth El of South Orange County got its start in 1981 by a handful of families who saw the need for a vibrant reform synagogue that could meet their needs close to home. Originally called Temple Beth El of Laguna Niguel, the new congregation held its worship services, Sunday school and Hebrew classes at a local church.
Rabbi Martin Weitz, who had retired to the area, assisted the founding families until they hired a full-time rabbi, Robert Jacobs. By 1983, the congregation numbered approximately 150 households. Despite its growing numbers, Temple Beth El continued to hold worship, study and social events in the church, and the congregation had no office or support staff.
In July 1984, Rabbi Allen Krause replaced Rabbi Jacobs. Upon his arrival from northern California, Rabbi Krause immediately rented office space, hired a part-time secretary and expanded the Hebrew school staff. By 1986, with membership over 200 households, the synagogue moved to a larger suite of offices and changed its name to Temple Beth El of South Orange County. Soon after, in 1988, Shula Kalir-Merton joined Rabbi Krause as the congregation's cantor.
As the congregation continued to grow, Temple Beth El's religious school moved classes to Laguna Niguel middle school, and the temple leadership decided it was time to find a facility that could house all the congregation's activities. The following year, the Mission Viejo Company offered Temple Beth El and eleven other religious groups the opportunity to compete for a 3.4-acre plot of land in Aliso Viejo, centrally located for all of South Orange County. Temple Beth El won the right to purchase the land, and three years later, in August 1992, modular units were installed on the property ending the nomadic phase of the congregation's existence. For the first time in our eleven-year history, services, religious school classes and administrative offices were all in one location. Membership soared in the aftermath of establishing our own facility.
In 1998, Rabbi Johanna Hershenson joined us as associate rabbi. That same year, temple leadership determined that the congregation had outgrown our modular facility. The congregation voted to sell the land, modular units, and to purchase and remodel a nearby building for our new, permanent home. Due to visionary leadership and the generosity of Susan and Henry Samueli and many other members of our congregation, the creation of our synagogue at 2A Liberty became a reality.
We moved into our new, spacious and beautiful home in 2001. The 65,000 square foot facility has 20 classrooms, a sanctuary that can seat 1200 people, a chapel that seats 200, both a children's and an adult library, a museum space, a small wi-fi equipped café, a large youth lounge, an outdoor basketball court, very comfortable clergy offices, and a modern catering kitchen. In the fall of 2001, the Early Childhood Center (ECC) opened its doors, offering educational programs for children from ten months through kindergarten. About the same time, Rabbi Hershenson left Temple Beth El to lead an Anchorage, Alaska congregation as solo rabbi, and Rabbi Michael Churgel joined the clergy as assistant rabbi.
In 2004, the dedicated efforts of our professional and lay educational leaders culminated in our religious school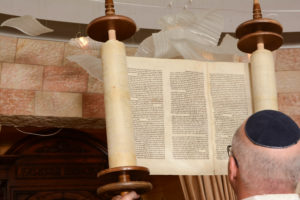 attaining accreditation from the National Association of Temple Educators, an arm of the Union for Reform Judaism, making ours the only accredited supplemental school in the state of California. That same year, Rabbi Churgel left the congregation and we welcomed back Rabbi Hershenson, who returned with "slightly older children, some newly found wisdom [and] a rekindled spirit." Subsequently, in the summer of 2006, we bid a fond farewell to Rabbi Hershenson, who left to head up a congregation in New Zealand.
Early in 2006, Rabbi Allen Krause who had nurtured this congregation for twenty-three years announced his retirement in June of 2008 with plans to complete his research and writing of a book on the role of southern rabbis in the civil rights movement. Temple Beth El used the opportunity to reflect further on who we were as a community and where we wanted to go. After an extensive and comprehensive search for a successor, Temple Beth El welcomed Rabbi Peter Levi and his family to the community in July, 2006. Rabbi Krause and Rabbi Levi, along with the other senior staff members and the lay leadership, worked closely together during the 2-year transition period to ensure a smooth transition as we embraced new spiritual leadership while honoring Rabbi Krause's invaluable contributions to our congregation and the broader Jewish and secular communities.
Under Rabbi Levi's leadership, Temple Beth El's vision continued to evolve. Rabbi Heather Miller joined the team in 2008. Temple Beth El embraced Synaplex Shabbat programs and received a coveted Legacy Heritage Innovation Project grant which helped launch family-based Shabbat-centered Jewish engagement alternative to religious school. Rabbi Miller moved on in 2010. In the fall of 2010, Temple Beth El said good-bye to "Sunday school" and embraced a Shabbat-based education program called Shabbat Chai. Rabbi Rachel Kort joined the clergy team and as Rabbi and the Director of Jewish Engagement to coordinate the new education program of Jewish engagement through Shabbat learning, community building, and worship as well as learning Jewish values through community service days.
In the fall of 2010 Temple Beth El welcomed a smaller conservative congregation into the synagogue family forging a synagogue community that would be home to Reform and Conservative traditions and worship styles. This vision of a multi-denomination congregation incorporated diverse clergy.(Click Here to view an independent documentary celebrating our 10 year anniversary of merging with Congregation Eilat. This is an independent production. The thoughts and feelings expressed herein are not necessarily those of Temple Beth El of South Orange County. Please contact 1x1docofficial@gmail.com with any questions, comments or concerns regarding this film.)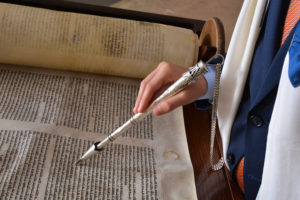 In the summer of 2011, Rabbi K'vod Wieder joined the team. In June of 2012, Temple Beth El's beloved Cantor Shula Kalir-Merton retired after 25 years. Recognizing that she cannot simply be replaced, the community decided to embrace a transition period to find a new voice for our congregation by inviting a variety of cantors, song leaders, and musical guests to lead us in prayer and worship to explore what the next evolution of music and prayer will be for our community. At the end of that year, Temple Beth El welcomed Cantor Natalie Young with her talent as a cantor, musician, and liturgical music writer to the clergy team.
After a decade of Rabbi Levi's leadership, in July 2016, the community "right-sized" its clergy team to match the congregation's 600 member households. With this reorganization of the rabbinical leadership, the community is now served by two full-time clergy: Rabbi K'vod Wieder, and Cantor Natalie Young. Temple Beth El continues to be a course-charting organization that serves the diverse needs of both our Reform and Conservative community.
In 2021, TBESOC hired Johannah Sohn, Ed.D. to be the Director of Congregational Learning. Johannah joined the professional team with excitement and vision for religious education. After significant time spent reviewing the programs that previously existed, learning from the community and researching best practices in the greater field, Johannah proposed a new approach to religious school. Our re-envisioned religious school program, The Aron and Sala Samueli Religious School Center for Jewish Learning, includes level-based Hebrew learning, hands-on electives such as cooking, arts and crafts, dancing and model building, and a detailed, scaffolded Judaic studies curriculum. The program is reinvigorated, full of fun and excitement, and designed to inspire a life-long love of Jewish learning while meeting the needs of today's Jewish family.
Home to Saved Torah Scrolls
The Story of Our Holocaust Torah Scrolls
Click here for information about our Torah scrolls
"Each Memorial Scroll is a messenger from a community that was lost, but does not deserve to be forgotten"
Click here to read the story of how one scroll arrived to TBESOC.
Click here or the image to the left for a presentation about the scrolls.
Tue, October 3 2023
18 Tishrei 5784
Tue, October 3 2023 18 Tishrei 5784